Low-Calorie Fiskcakes Made With Lo-Dough Will Rock Your World
As ever, low-carb is only part of the story... they are low-calorie too, as well as high protein and high fibre. Whatsmore, they are utterly delicious. Lightly curried, but still letting the fish shine through and finished off with the fresh taste of coriander, these are a total treat. 
Lo-Dough fishcakes only need accompanying with a fresh salad to create a balanced meal. Because they are so high in fibre (12g!), they will be filling and satisfying to the even the hungriest of bellies. 
These are one of the best savoury uses of leftover crumbs from other Lo-Dough recipes (#keepthecrumb). By mixing the blitzed Lo-Dough, with an egg and small spoon of yoghurt, you will have a thick batter to build on. Here we have added cooked haddock, but you could add pretty much any fish you like - mackerel would work very well here - it's strong flavour standing up very well to the curry flavours. The curry powder itself is just a simple medium curry powder, but you could add your own masala blend if you were feeling a little more ambitious. A few grams of cooked onion, a small handful of fresh coriander and a good hit of seasoning will finish this fishcake mix off very nicely. Simply shallow-fry on a low heat for a few minutes on each side (in butter, olive oil or spray-oil, depending on diet) and serve them up.  
Combining fish with Lo-Dough creates a super healthy powerhouse of a meal - serving alongside dressed veg or salad will round it off nicely nutritionally (and taste-wise). Whether for slimming or for fitness, Lo-Dough fishcakes are the perfect mealtime solution. Having this recipe in your armoury is a must! 
For more fishcake inspiration, why not try some of these recipes:
Ingredients
Serves 1
1 piece of Lo-Dough, blitzed to a crumb
100g of haddock (or other white fish), lightly baked or poached, allowed to cool and broken into flakes
1 medium egg, beaten
20g of fat free yoghurt (use full fat if keto)
A quarter of an onion, finely chopped and lightly cooked
2 teaspoons of curry powder (mild or medium)
A small handful of fresh coriander, chopped
6-8 sprays of fry-light
Salt & pepper
What you'll need
This diet-friendly recipe is possible with:

Original Lo-Dough Bases
Regular price
from £3.49
Out of stock
Method
Add your all the ingredients to a bowl and mix well. Form into two cakes, 1.5cm thick.
Oil a pan with the fry-light and on a low-medium heat, fry the cake for approx. 3-4 minutes on each side.
Serve with salad and any Indian chutney or condiment of your choice.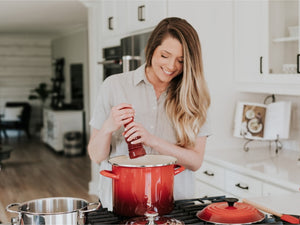 Hungry for more recipes?
Join over 200,000 subscribers in receiving new recipes, tips, offers and a whole lot more.