Lo-Dough means freedom to eat more freely, and this is the ultimate example of it, with delicious grilled beef, cheese, and salad to make a thoroughly enjoyable meal, for only 13g carbs.
Even when loaded up with cheese and burger sauce (light mayo and tomato ketchup combined), this meaty monster still only came out at 462 calories for the lot.
Topped with a few choice adornments (crispy lettuce, juicy tomato, raw red onion, a sliced gherkin), it's a total cinch to make and ready in 10-15 minutes.
You need to cut out some rounds from your Lo-dough, but don't throw out the offcuts. Put them in a food processor, whizz them up into crumbs and then put them into a sealed box in your fridge for up to 3 days or freeze to use later as part of one of our bakery recipes (one piece of Lo-Dough is 28g - all our recipes work to this measurement unless stated otherwise).
Low carb lunches with Lo-Dough
If you are on a low carb diet or simply watching the pounds, even if you are on a ketogenic diet, using Lo-Dough as your bread alternative is the way forward for successful results. Slimming down, or reaching personal fitness goals alongside a fitness regime, regardless, Lo-dough is the way to success.
To make this recipe slimming friendly, use 5% minced beef to create your own burger.
There are plenty of low carb lunch ideas, including the piri piri chicken pizza, or the keto friendly salmon and broccoli pesto pizza /
Lo-Dough is:
High fibre | fat free | low-carb | gluten free | dairy free | high protein | paleo | vegetarian | sugar free 
Ingredients
1 piece of Lo-Dough
2 quarter pounder burger patties (approx 230g), or a home-made patty for slimming
1 cheese single (low fat if slimming)
1 slice of tomato
A few rings of red onion
A gherkin, sliced
A couple of lettuce leaves
6 sprays of fry light
For the burger sauce
A blob of ketchup and a blob of mayonnaise
What you'll need
This diet-friendly recipe is possible with:

Original Lo-Dough Bases
Regular price
from £3.49
Out of stock
Method
Using an 11cm pastry cutter, cut out two circles from your piece of Lo-Dough - your lid and your base. Keep back the offcuts for another recipe, as described above.
Push the two quarter pounder burgers together to make one half pound burger, slightly bigger than the diameter of your Lo-Dough.
Spray the burger on both sides with the oil and griddle for approx 5 minutes each side. Add the cheese slice, cover with a heat proof bowl and allow the cheese to melt for a further minute.
Whilst the burger cooks, mix the two sauces together and spread on your lid. Once cooked arrange your burger and salad as you desire. Serve immediately.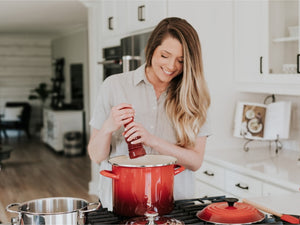 Hungry for more recipes?
Join over 200,000 subscribers in receiving new recipes, tips, offers and a whole lot more.