Low-Carb Chutney - A Sweet Accompaniment With No Added Sugar
This low-carb tomato and chilli chutney is the perfect condiment for all kinds of Lo-Dough dishes. It's sweet/sour/spicy flavour would pair up brilliantly with any number of our savoury dishes - veggie fritters, breaded brie, hallumi wraps, etc and offers a great replacement to ketchup and other 'fruitier' condiments (often full of sugar). This chutney comes in at just 2.5g of carbs per portion (and we are talking a generous portion!) 
Just a few simple ingredients, chopped and cooked down in a saucepan for ten minutes will supply you with a delicious, fresh chutney that will keep for 3-4 days in the fridge. 
The key to making this one is to switch out regular sugar for erythritol. Erythritol is available in its raw form online and in shops, with brands like Sukrin using it in their sugar replacement products. It is about 70% the sweetness of regular sugar, but it isn't digested by the body (check out our polyol blog), so is, in effect, calorie and carb neutral.  
If you like a sweet condiment on the side of your food and are trying to stick to a low-carb diet, we strongly recommend you check this one out! 
Ingredients
Serves 4
100g of cherry tomatoes, roughly chopped
Half a small red onion, finely chopped
5g of finely chopped fresh chilli or a good pinch of chilli flakes (add more to taste if desired)
100ml of cider vinegar
100g of erythritol sweetener
Method
Add all the ingredients to a pan and boil for 10-15 minutes, or until thick and syrupy.
Allow to cool before serving. Keep in a sealed jar in the fridge for 3-4 days.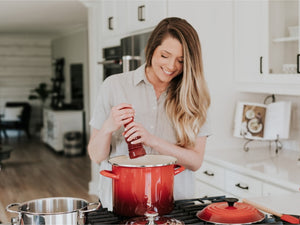 Hungry for more recipes?
Join over 200,000 subscribers in receiving new recipes, tips, offers and a whole lot more.