A Delicious, Low-Carb Mexican Side-Dish
A properly made Guacamole is hard to beat. Nothing you can buy in the shops even comes close. Some people swear by a chunkier texture, others prefer it a little smoother, but we think the best way to serve this is a with a little bit of both. If making with a whole avocado, mash up half with a fork, and chunk up the other half with a knife.  
It's great on nachos, alongside chilli-con-carne, with enchiladas, fajitas, burritos, quesadillas and more. It also takes just a few minutes to prepare.
Though high in fat for a fruit, it is heart-healthy monounsaturated fat - good fat, so to speak. One portion also gives you just under 20 vitamins and minerals, making it incredibly nutrient-dense. 
There is no one recipe - some add garlic, some don't. Some people mix in sour cream or yoghurt and many people add tomatoes. For us, this recipe is the simplest and freshest tasting. If you are serving guacamole, there is a high enough chance you'll be serving a tomato salsa and sour cream too, so there's no great benefit to them being in the guacamole. 
Whatever way you make it, doing it yourself is the main thing. When it comes to guacamole, fresh is best!
Ingredients
Serves 4
1 avocado, half crushed, half chopped into chunks
20g of red onion, finely chopped
Half a clove of garlic, crushed
5-10g of red chilli, finely chopped
A small handful of coriander, chopped
The juice of a lime
Method
Add all the ingredients into a bowl and mix. Best served straight away (but will keep for 24 hours in a sealed container in the fridge).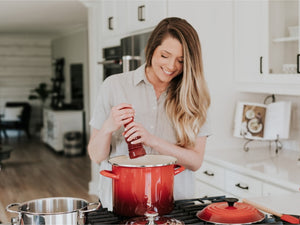 Hungry for more recipes?
Join over 200,000 subscribers in receiving new recipes, tips, offers and a whole lot more.