Winter-Warming, Low-Calorie Perfection!
On a cold Autumn night, what could be better than chilli con carne. Spicy, wholesome and full of flavour, it's a great example of comfort food at it's finest. 
We've served our's in a Lo-Dough bowl, with a few optional accompaniments. By using a Lo-Dough bowl instead of the usual rice, you massive lower the carbs and calories, whilst upping the fibre (the chilli and Lo-Dough bowl supply 14g of fibre!).
At just 314 calories for the chilli bowl, you have plenty of calorific room for optional extras as desired. You can go with salsa, guacamole, yoghurt, sour cream, cheese - anything you like that suits your diet. 
Check out our simple chilli con carne recipe - put yourself in control of what you eat!
Ingredients
Serves 1
1 piece of Lo-Dough
1 portion of chilli con carne
1 egg, beaten (for a little egg wash)
Serving options
Salsa
Guacamole
Sour cream
Yoghurt
Jalapeno chillis
Coriander
Cheese
What you'll need
This diet-friendly recipe is possible with:

Original Lo-Dough Bases
Regular price
from £3.49
Out of stock
Method
Preheat your oven to 180°C/356 F. push your Lo-Dough into a bowl and egg wash. Bake for approx 10-15 mins (you are looking crisp it up slightly, but not completely dry it out.
While the bowl cooks, warm through your chilli and get your sides ready.
Arrange everything in the bowl and serve!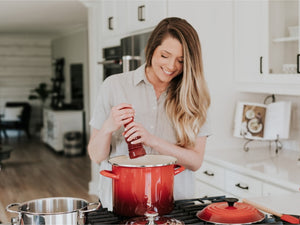 Hungry for more recipes?
Join over 200,000 subscribers in receiving new recipes, tips, offers and a whole lot more.