A Fat-Free Side That Never Fails To Satisfy
Pico de Gallo is a classic Mexican side and will work perfectly with any number of Mexican-inspired Lo-Dough dishes. The sour tang, raw onions/garlic onion punch and juicy tomatoes work so well with the richer foods they are often served alongside. It just so happens to be completely fat-free, 24 calories and only 6 carbs per serving, so its the perfect sauce for dieters of all stripes! 
The trick to making a perfect Pico de Gallo (or Salsa Fresca/Salsa Cruda as it is sometimes called) is to chop everything super fine. Each cherry tomato should be chopped into about 8 pieces and the onions and coriander should be as fine as you can go. One reason for this is to make sure the flavours are all evenly distributed with every mouthful. The other is that while it sits in the lime juice, the acid from the lime actually starts to cook everything, which as a result, slightly mellows the raw onion. We would recommend this being left for at least 15 minutes before serving, so the flavours can properly mix and mingle!
If you are having nachos, fajitas, burritos or enchiladas, this salsa is the perfect partner to accompany them - why not try making your own fresh salsa today? 
Ingredients
Serves 4
15 or so cherry tomatoes, finely diced
Half an onion, finely chopped
Half a clove of garlic, crushed
5-10g of red chilli, finely chopped
A small handful of coriander, chopped
The juice of a lime
Method
Add all the ingredients into a bowl and mix. Best served straight away (but will keep for 24 hours in a sealed container in the fridge).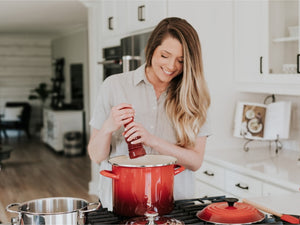 Hungry for more recipes?
Join over 200,000 subscribers in receiving new recipes, tips, offers and a whole lot more.