Low-calorie dessert anyone? Lo-Dough mug cakes are the perfect solution 
Lo-Dough - the bread alternative - is now also the ultimate breadcrumb alternative for a world of healthy, nutritious desserts, and these low-calorie mug cakes are a perfect example.
Mug cakes (yes, made in a mug) give you a breakfast, mid-afternoon or even dessert treat in minutes. By blitzing your Lo-Dough to a crumb and adding a few basic ingredients (an egg, a spoon of yoghurt, sweetener and some fruit/nuts/chocolate), you can have a moist sponge cake, cooked in the microwave in under 3 minutes. 
What's Lo-Dough?
Lo-Dough is actually many things, but in this case, it is a blitzed cake mix which replaces high-carb flour. It's virtually carb-free, and just 39 calories per piece, making sweet treats like mug cakes healthier than ever before. 
You can buy Lo-Dough from £5 in the online store.
In this recipe, we've gone with pear and almond - a timeless combination that works beautifully together. In a world where finding a perfectly ripe pear is a bit of a task, quickly microwaving the diced pear before adding it to the mix gets around this problem, leaving you with delicious, sweet & soft pear. The nuts add crunch and flavour - they can be added as they are, or toasted for even more nutty flavour. 
We've served ours with a side of yoghurt, half a raw sliced pear and a few extra nuts, intended to be served as a brilliant breakfast treat that supplies you nearly half of your daily fibre requirement. 
Pro Tip: Take the mixture in a mug to work with you - just cover with a piece of cling film. Somewhere mid-morning, blow your colleagues away with your microwaved breakfast, turned out of the mug, steaming and delicious!
Inspired by Lo-Dough desserts?
Healthy Lo-Dough desserts don't stop with mug cakes. There are a ton of recipes where you can try cakes, desserts, and even cookies from the magic of Lo-Dough.
Our favourites include:
Low-calorie chocolate chip cookies
Give them a go today!
Ingredients
1 piece of Lo-Dough, blitzed to fine crumbs
90g (approx half) a large pear, diced
10g of flaked almonds, toasted if desired
1 large egg, beaten
1 dessert spoon of fat free yoghurt
2 heaped teaspoons of sweetener
What you'll need
This diet-friendly recipe is possible with:

Original Lo-Dough Bases
Regular price
from £3.49
Out of stock
Method
Add the chopped pear to a bowl with a small splash of water and microwave for around 1-2 minutes until the pear softens. Drain and return the pear to the bowl.
Add all the other ingredients (including remaining sweetener) to a bowl and mix well.
Add to a mug and cook in a microwave for 2-3 minutes (depending on wattage). After 2 minutes take out and check by pressing the bottom of the mug cake. It should feel firm to touch, with a little bounce.
Take out and leave to stand in the mug for a further minute before turning out onto a plate.
Serve with yoghurt for breakfast or low fat, sweetened crème fraîche for a lovely dessert.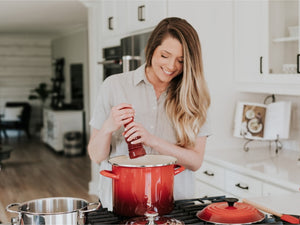 Hungry for more recipes?
Join over 200,000 subscribers in receiving new recipes, tips, offers and a whole lot more.