A Simple, Low-Carb Lunch, Ready In Minutes 
What carnivore doesn't love a good old sausage sarnie? It's just one of those universal things. But if you are counting calories and carbs, you may have been skipping sausage sandwiches - even at the weekends. That's where Lo-Dough comes in. By using Lo-Dough to wrap up your sandwich, you slash the calories and carbs dramatically, giving you back the simple pleasure of a great sausage butty! That's not to mention the massive 9.3g of fibre you'll be getting from your Lo-Dough.
The twist on this recipe is to get your sausages and onions coated in a sticky glaze made of ketchup, mustard and in our case, Sukrin's 'Fibre Syrup' - a sugar-free syrup. If you don't have it to hand, you could replace with honey, but go easy... the point here is to keep the carbs down! Mix your sauce together and get your sausages and onions nicely coated, before baking off in a hot oven for 25-30 minutes. Once they're all cooked, get them wrapped up - maybe throw in some salad leaves for freshness and colour. If you are to save it for a lunch box, just wrap it in foil and you are good to go!
Note: Any left of onion can be kept after cooking and put on salads, sandwiches, pizzas, kebabs - anything really for a delicious sticky-sweet flavour hit!

Low-Carb Dieter or Low-Fat Slimmer? Lo-Dough Is A One Size Fits All Product
We've gone with 2 full-fat sausages in this case, but you could just as easily swap them out for lower-fat/gluten-free/vegetarian versions depending on your own diet. Lo-Dough works for any diet, so what you put in the sandwich is the key to making sure you stay on plan.
For more low-calorie and low-carb sausage recipes, check out the following:
Ingredients
Serves 1
1 piece of Lo-Dough
2 pork sausages (or vegetarian) of your choice
1 onion, finely sliced
1 tablespoon of ketchup
1 tablespoon of grain mustard
1 tablespoon of Sukrin Fibre Syrup
A few salad leaves (optional)
A few sprays oil
Seasoning
What you'll need
This diet-friendly recipe is possible with:

Original Lo-Dough Bases
Regular price
from £3.49
Out of stock
Method
Mix your ketchup, mustard and syrup together in a bowl and add your sausages and sliced onions. Season with salt and pepper. Mix well, making sure everything is coated.
Cook in a hot oven (200C) for approx 25-30 minutes.
Take your Lo-Dough and give it a little spray, or a quick splash with some water on both sides. Then place between to sheets of grease proof and roll until thin.
Place the salad leaves on the Lo-Dough, followed by your sausages and a spoon of the caramelised onions.
Tightly roll in some foil and save for later, or wrap up, cut in half and start tucking in straight away!!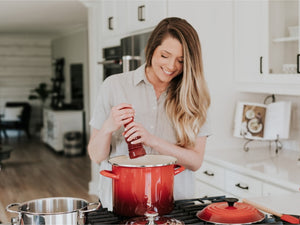 Hungry for more recipes?
Join over 200,000 subscribers in receiving new recipes, tips, offers and a whole lot more.