Low Carb, Low-Calorie Pies... It's Lo-Dough Pie-fection!
We've brought you pies and pastries before, but not like this - we've discovered Lo-Dough can be turned into perfect, single-portion pies in a pie maker. It's basically a toastie machine in the shape of a pie and it works a treat! If you have one, we recommend trying it. If you don't have one, you should still try Lo-Dough as a pastry alternative in the form of a pasty, a quiche or even a steak pudding. 
Anyway, back to the pie-maker. It involves cutting two pieces of Lo-Dough to size, but don't fear - the offcuts give you back the perfect amount of Lo-Dough to make a brownie mix, a fritter mix or even a mug cake. Nothing goes to waste - Just blitz the off-cuts to a crumb and freeze in a sealed box or bag.  
Once the re-sizing is done, egg-wash the pieces and arrange one piece of the Lo-Dough in the pie maker as the base (the Lo-Dough will naturally fold over in part as you push it into the mould) and fill with any given filling - in this case, slow-simmered steak and kidney stew. Top with the pie lid, egg wash again and let the pie maker do its magic.  
These only take 15 minutes or so to brown, so any filling you put in needs pre-cooking. This can also be used to put a new spin on leftover roasts/casseroles.
Pie makers are available for around £20 and are a great addition to your kitchen - giving you a neat finish to any pie - sweet or savoury. It's not a barrier to using Lo-Dough as pastry - but it's a lot of fun and well worth a try if you feel like splashing out! 
(Top Tip - Making meat stew is easy - brown off a kilo of meat and add to a casserole dish with a chopped carrot, onion, celery stick, garlic clove and herbs of your choice. Cover with liquid - wine, beer or meat stock and season - cook in the oven for two to three hours on a low heat, with the stew just bubbling lightly the whole time).
The nutritional information for our pie includes the nutrition info for 160g of steak and kidney stew.  
Ingredients
Serves 1
2 pieces of Lo-Dough, cut to size as described in method
1 egg, beaten for egg washing
A teaspoon of thyme or rosemary
160g of cooked steak and kidney stew
Salt & pepper
What you'll need
This diet-friendly recipe is possible with:

Original Lo-Dough Bases
Regular price
from £3.49
Out of stock
Method
Cut your 2 pieces of Lo-Dough into smaller circles. One needs to be approx. 11.5-12.5cm (4.5-5 inches) and the other needs to be 17.5-18.5cm (7-7.5 inches). You can use a template made from cardboard, or an similar sized plate/mug etc to help do this. Save any leftover Lo-Dough as a crumb in your freezer.
Wash the larger circle with a little egg on one side and put into your pie maker egg side down. Fill with 160g of your filling, egg wash the lid on both sides and place on top.
Close and seal your pie maker and leave to cook for 15-20 minutes, or until golden. You can egg wash the lid part way through for an extra golden finish.
Carefully lift the pie out of the machine and using a sharp or serrated knife, neaten up any edges if desired.
Serve with veg and extra gravy if desired.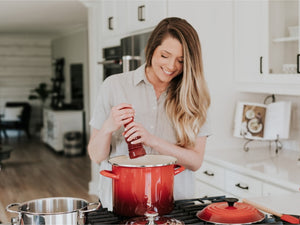 Hungry for more recipes?
Join over 200,000 subscribers in receiving new recipes, tips, offers and a whole lot more.