The Perfect Low-Sugar Condiment For Pastries, Cold Cuts, Cheese & More
This incredible chutney showcases the sweetness of the onion at their best. By slowly cooking your onion (and a few chopped herbs) down over 20-30 min, you end up with caramel-brown, sticky sweet onions. This is accentuated by adding a couple of spoons of erythritol sweetener and a similar amount of cider vinegar, to give you a sweet and sour flavour to the chutney. Finish with a good amount of salt and pepper.
Chutneys have a tendency to be sugar and carb-laden - Onion chutneys even more so! By using sweetener instead of sugar you can drastically reduce the carbs in this particular condiment.
A Perfect Low-Carb Condiment
It goes great with sausage rolls of any sort and would be perfect as the base of our French-style pizza. Additionally, this would be great on a toastie with goats cheese. 
This is a small batch, quick-to make-chutney that will last 3-4 days in the fridge. Make a batch and use over a variety of meals for a few days - its super addictive stuff and incredibly versatile! 
Ingredients
Serves 4
1 large onion, finely sliced
1 teaspoon of thyme, finely chopped
50ml of cider vinegar
50g of erythritol sweetener
A drop of gravy browning (just for colour - optional)
10 sprays of oil
Salt & pepper
Method
Add the spray oil to a pan and slowly fry the onions for 25 mins, until caramelised and sticky .
Add all the other ingredients and cook for a further 5 minutes. Cool and keep in a sealed jar in the fridge for 3-4 days.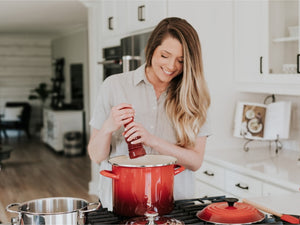 Hungry for more recipes?
Join over 200,000 subscribers in receiving new recipes, tips, offers and a whole lot more.