A Low-Calorie Version Of The Enduring French Appetiser - Great For Sharing
Rich, salty olives and anchovies on a base of super-sweet, slow-cooked onions - this is the kind of dish that goes down very nicely with a cold rosé or a glass of fizz! Unsurprisingly then, this dish hails from Nice in the south of France. Whereas the original uses an almost deep-dish style dough (bringing with it masses of carbs and calories), ours replaces this with Lo-Dough, making the whole thing lighter and healthier, without compromising on flavour. As ever, thanks to the high fibre content of Lo-Dough, you will feel satiated and satisfied.  
Know Your Onions!
The absolute key to this dish is the long, slow-cooked onions (plus a little thyme) that provide a contrasting sweetness to the other saltier elements. In this case, long and slow means a minimum of around 40 minutes frying on the lowest possible heat - you will only need to stir occasionally, so though time-consuming, it's not a massive burden. It's well worth it - what you end up with is an almost caramel-sweet, sticky onion compote which serves to stop the anchovies and olives becoming too overwhelmingly salty on the finished dish.
A Great Low-Carb Bread Replacement
Even with a whole onion (flavoursome, but notoriously carby) on the dish, the whole dish comes in at a respectable 12g of carbs, so don't feel as though you have to miss out if on a low-carbohydrate diet. Instead of the usual bready, carb-laden dough, you've got a piece of Lo-Dough doing all the heavy lifting - coming in at just 2.2 carbs per piece. For calorie counters, it's just 225 calories for the whole thing, so no problems there! 
Pissaladiere is something a bit different for when you feel like a change. For other unique and unusual pizza dishes why not try:
The Keto Salmon and Broccoli Pizza
Ingredients
Serves 1
1 piece of Lo-Dough
1 medium/large onion, finely sliced
25g of anchovy fillets, sliced in half lengthways
12-14 Kalamata olives
A teaspoon of chopped fresh thyme
10 sprays of oil
A twist of black pepper
What you'll need
This diet-friendly recipe is possible with:

Original Lo-Dough Bases
Regular price
from £3.49
Out of stock
Method
Preheat your oven to 250°C/475F/Gas 9.
In a low pan, add 6 sprays of oil and and cook your onions and thyme for approx. 40minutes, stirring occasionally until caramelised and sweet. Once cooked, put in a bowl and leave to one side.
Wipe the pan with kitchen roll and quickly fry off your Lo-Dough until lightly browned in a few more sprays of oil. This should only take 20 seconds or so.
Spoon the onion mix onto the Do-Dough and spread around to create a thin, even layer.
Arrange the anchovies and olives on top as per the photograph accompanying this dish (it doesn't have to look like that - it's just the traditional presentation).
Place the pissaladiere in the oven for approx 5-6 minutes.
Serve with a few more leaves of picked fresh thyme and a twist of pepper to finish.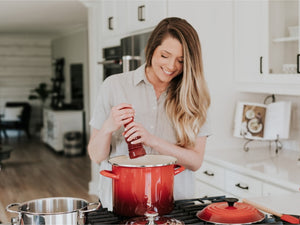 Hungry for more recipes?
Join over 200,000 subscribers in receiving new recipes, tips, offers and a whole lot more.