A Healthy, Protein-Packed Powerhouse
This one is a must for seafood and fish lovers - low-fat fish and seafood, salty caper berries and plenty of cheese and tomato, as ever. Muscles, prawns, chunks of white fish and even some hidden anchovies (added under the cheese), this one is as tasty as it is good for you.
PIzza that is good for you?? Oh yes! Check out the macros - 379 calories, 6g of carbs and 11g fibre - as well as just 11g of fat and a whopping 60g of protein. This is pizza like no other! Served with a vitamin and nutrient-rich salad on the side, Lo-Dough pizza helps to shed pizza of its 'junk' status and put it firmly back on the menu for healthy eaters everywhere - without sacrificing on taste.
Lo-Dough & Complimentary Products
To keep the fat down, we went with a blend of the mighty Eatlean Cheese and little extra mozzarella - as well as Nowt Poncy's Pizza sauce (mixed with the aforementioned chopped anchovy) to create a winning hybrid of good strong tastes for our seafood to sit on. Eatlean & Nowt Poncy are our favourites and we highly recommend them, but you can use any other sauces and low-fat cheese if you don't have these to hand. If you wanted to up the sweet seafood flavour even more, you could stir a little dressed brown crab-meat through the tomato sauce. This is available in small portion tins for approx £1.50 and will be enough to do 3-4 pizzas - or toasties or anything else you fancy. 
Speaking of strong tastes - there is no value in using expensive, delicate flavoured fish on this one - you'll lose its flavour amongst all the cheese - we went with basa fillets from our local supermarket, but could just as easily recommend pollack or cod - and it's perfectly fine for this if you use frozen fillets. The same goes for the seafood - use the best you can, but frozen or pre-cooked will be fine. 
If you are looking for more fish and seafood recipes, then you are in the right place - check this little lot out:
Ingredients
Serves 1
1 piece of Lo-Dough
40g of white fish, diced into 2cm pieces and season with a little salt
Approx. 12 cooked prawns
Approx. 12 cooked muscles
1-2 anchovy fillets
A dessert spoon of capers
40g of grated mozzarella
40g of grated Eatlean Protein Cheese
2 tablespoons of passata
A twist of black pepper
What you'll need
This diet-friendly recipe is possible with:

Original Lo-Dough Bases
Regular price
from £3.49
Out of stock
Method
Preheat your oven to 250°C/475F/Gas 9.
Spread the passata across the Lo-Dough in a thin layer, right up to the edge. Add the finely sliced anchovy around the base.
Spread the grated cheeses on top of the passata and add the fish, prawns and muscles. Put the pizza in the oven for 7-10 minutes or until golden and bubbling.
Serve with a crack of black pepper on top.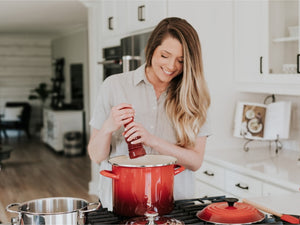 Hungry for more recipes?
Join over 200,000 subscribers in receiving new recipes, tips, offers and a whole lot more.