Low-Calorie, Low-Carb Nachos Are Here
Low-carb nachos may seem like a tall order. Not with Lo-Dough.
Nachos are a great, simple snack food - perfect for parties or nights in front of the TV. Using a few simple shop-bought ingredients, this can be thrown together in minutes, or you can go to town and make your own chilli and other sides and make this something of an event - the choice is yours.
Done the Lo-Dough way, the calories are halved from that of any shop bought equivalent, with the added bonus of being high in fibre and therefore filling and satisfying. As far as carbs go, Lo-DOugh hits it out of the park. We've used a light cheddar here in our recipe, but there is always the option to go full fat and still come in significantly lower in calories. 
Lo-Dough will make more than enough filling nachos for one, but we've used two for a sharing portion in the picture above. Though nachos could easily be served as a snack - we have gone for it here - a fully loaded main meal! 
The nutritional info is for 1 piece of lo-dough as nachos with chilli con carne, cheese, guacamole, sour cream and salsa! 
Check out our simple chilli con carne recipe!
Low-carb Nachos Make For A Filling Snack
Quick wraps, Brownies and more. Lo Dough is great to snack on due to its high fibre content. The fibre is the thing that will satiate your hunger pangs and fill you up between meal times without loading you with calories and carbs. 
Inspired? Check out our recipes for perfect Mexican sides to go with your nachos. 
Ingredients
Serves 2
For the nachos
2 pieces of Lo-Dough
2 teaspoons of paprika
2 teaspoons of low fat shaker cheese or parmesan (optional)
Spray oil
To top
Chilli con carne
Half fat cheddar
Salsa
Guacamole
Sour cream
What you'll need
This diet-friendly recipe is possible with:

Original Lo-Dough Bases
Regular price
from £3.49
Out of stock
Method
Preheat your oven to 200C/392F/Gas mark 6.
Spray the Lo-dough with oil and then sprinkle it with a teaspoon of paprika and the shaker cheese (or parmesan) and roll out with a rolling pin, pushing the paprika into the dough. Repeat on the other side.
Microwave for 2 minutes. Your Lo-Dough will come out as crisp discs.
Cut into pieces any size of your liking. We aim for about 8-10 rough triangles per Lo-Dough.
Build up your nacho serving with chilli con carne, nachos, cheese and jalapeno chillis. Then place in the oven for 15 minutes.
Take out and add your salsa, guacamole and sour cream. Serve Straight away.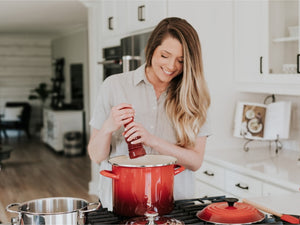 Hungry for more recipes?
Join over 200,000 subscribers in receiving new recipes, tips, offers and a whole lot more.