Light Summer Food, Without the Hidden Calories 
The sun is out and it's time for light, summery food. Just because there is a lot more salad about and the food is generally lighter and more colourful, don't be fooled into thinking everything is lower in calories. With a BBQ comes carb-laden bread, with salad comes sugary/fatty dressings and with quiche, there is always pastry. 
But these wonderful foods don't need to be avoided - just rethought. Building Lo-Dough into your diet saves you calories and carbs like nothing else and with a few other tips (we have an incredible, tasty, zero-fat salad dressing for you!) you can still enjoy all your favourites. 
Oh yeah - that picture above? That's our ice-cream sandwich made with the Lo-Dough Brownie Mix. It's absolutely delicious, insanely low in calories and perfect for the hot weather ahead... 
This quiche is inspired by the flavours of the Mediterranean - Sun-dried tomatoes, roasted red pepper, griddled courgette, olives and basil all feature, encased in their egg mixture and topped with cheese. You don't need us to tell you how beautiful this one is going to taste - it's sunshine on a plate. 
Get a 7-inch quiche tin at the ready and follow our simple method - this beauty could be all yours today. 
Serves 4
Calories per quarter: 184 kCal
Fat: 13 g | Carbohydrates: 4.5 g | Fibre: 3.5 g | Protein: 8.5 g
We've designed these kebabs with slimmers AND gym-goers in mind. Turkey breast is lean, low-fat and super-high in protein and makes the perfect kebab for both groups of dieters. Fear not - they are still packed full of flavour and careful cooking of the turkey means these won't dry out, as is often the concern with white turkey meat. The flavour comes from a mix of herbs and spices - a liberal sprinkling of both - as well as a low-fat mint yoghurt raita. 
Serves 1
Calories per serving: 222 kCal
Fat: 3 g | Carbohydrates: 10 g | Fibre: 10.3 g | Protein: 35 g 
This wonderful salad is something a little different but still absolutely guaranteed to brighten your day. It would work fantastically alongside any fish or white meat dishes made with Lo-Dough. 
It is packed full of nutrients, comprised as it is of fennel, orange, spinach and walnuts, a little sliced red onion and an orange juice and yoghurt dressing. The combination of textures are tastes are absolutely fantastic and the bright clean flavours will whisk you away to sunnier climes (this flavour combination is Italian/Mediterranian in its origin).  
Serves 3
Calories per serving (with dressing): 91 kCal
Fat: 3 g | Carbohydrates: 15 g | Fibre: 4 g | Protein: 3 g | Sugar: 7 g
If we told you that you could have an ice-cream sandwich for 111 calories, you think we were lying, right? Well, we are absolutely not - your on-plan ice cream sandwich prayers are answered! At just 11.2g of carbs and a massive 8.1g of fibre, this is an ice-cream sandwich, reinvented. This great hack for Lo-Dough brownies makes the perfect ice-cream sandwich and by adulterating your brownies with additional flavourings, you can tweak these summer treats to your heart's content.  
For these particular brownies, we added a teaspoon of salted caramel flavouring to ramp up the taste! 
Serves up to 9
Calories per ice-cream sandwich: 111 kCal
Fat: 3.3 g | Carbohydrates: 11.2 g | Fibre: 8.1 g | Protein: 4.6 g | Sugar: 4.8 g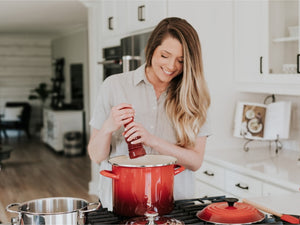 Hungry for more recipes?
Join over 200,000 subscribers in receiving new recipes, tips, offers and a whole lot more.