Incredible, Light, Low-Calorie Cupcakes - Make Them With Lo-Dough!
Lo-Dough cupcakes are go! That's right, you can make beautiful cupcakes in a matter of minutes (under 10 minutes, in fact!), using Lo-Dough as the primary ingredient. The key to the quick cooking time... Microwave them! That's right, blitz your Lo-Dough, mix in a few other ingredients, split the mix between three silicone or even just paper cupcake moulds and microwave for 2 minutes. At this point, you have three cupcakes at under 2 carbs and 80 calories each. 
So, depending on your particular diet, you can dress them any way that suits. A little chocolate is always good - keep to the darker stuff if you are keto. If keeping the calories down, maybe just a chocolate drizzle, rather than a full coating. 
You could add jam, or cream, or both. You could add a cream cheese frosting. Sprinkles, nuts, pretty much anything you like - feel free to experiment. 
Low-Calorie Cakes
With blitzed Lo-Dough, the cake options are endless. You can make brownies, blondies, Bakewell cakes, mug cakes and now cupcakes. You can also make all manner of savoury options - our site is full of recipes for you to try!
Ingredients
Serves 3
1 piece of Lo-Dough, blitzed to fine crumbs
20g of dark chocolate
10g of cocoa
20g erythritol sweetener (or any sweetener of your choice)
1 large egg, beaten
20ml of milk
A pinch of baking powder
What you'll need
This diet-friendly recipe is possible with:

Original Lo-Dough Bases
Regular price
from £3.49
Out of stock
Method
Put the Blitzed Lo-Dough, cocoa, egg, sweetener, baking powder and milk, into a bowl and whisk.
Put into cupcake moulds and micro wave for two minutes. Allow to cool.
Melt the chocolate and dip each cake in, allow the excess to drip off.
Add any decorations to the top while the chocolate is still setting, so that they stick. Serve as soon as the chocolate has fully set. Store in a sealed container for up to three days.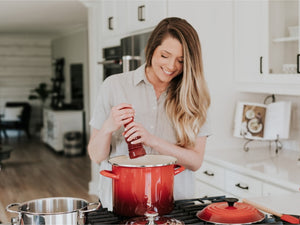 Hungry for more recipes?
Join over 200,000 subscribers in receiving new recipes, tips, offers and a whole lot more.